Jesus, The Son of God | See All The Videos. Go to the: 30 Second Video Menu

The Prophecy The Jews Refuse To Read
Isaiah 53 is never read in a Jewish synagogue. It is too convicting. It is too accurate. Written 600 years before Jesus lived it describes Jesus the Messiah, His purpose in coming, and His crucifixion... providing specific details. It is impossible for this prophecy to have been written before Jesus lived and died. No one could know these details... except God who knows the future and who inspired Isaiah to write it down. It's real. You can go to Jerusalem and see the Isaiah scroll. This scroll is a copy of Isaiah, including Isaiah 53, made 100 to 150 years before Jesus lived. This is a true prophecy describing our Savior Jesus Christ.
Here is what it says (the prophecy starts in Isaiah 42:13):
13Behold, My servant will prosper,
He will be high and lifted up and greatly exalted.
14Just as many were astonished at you, My people,
So His appearance was marred more than any man
And His form more than the sons of men.
15Thus He will sprinkle many nations,
Kings will shut their mouths on account of Him;
For what had not been told them they will see,
And what they had not heard they will understand.
1Who has believed our message?
And to whom has the arm of the Lord been revealed?
2For He grew up before Him like a tender shoot,
And like a root out of parched ground;
He has no stately form or majesty
That we should look upon Him,
Nor appearance that we should be attracted to Him.
3He was despised and forsaken of men,
A man of sorrows and acquainted with grief;
And like one from whom men hide their face
He was despised, and we did not esteem Him.
4Surely our griefs He Himself bore,
And our sorrows He carried;
Yet we ourselves esteemed Him stricken,
Smitten of God, and afflicted.
5But He was pierced through for our transgressions,
He was crushed for our iniquities;
The chastening for our well-being fell upon Him,
And by His scourging we are healed.
6All of us like sheep have gone astray,
Each of us has turned to his own way;
But the Lord has caused the iniquity of us all
To fall on Him.
7He was oppressed and He was afflicted,
Yet He did not open His mouth;
Like a lamb that is led to slaughter,
And like a sheep that is silent before its shearers,
So He did not open His mouth.
8By oppression and judgment He was taken away;
And as for His generation, who considered
That He was cut off out of the land of the living
For the transgression of my people, to whom the stroke was due?
9His grave was assigned with wicked men,
Yet He was with a rich man in His death,
Because He had done no violence,
Nor was there any deceit in His mouth.
10But the Lord was pleased
To crush Him, putting Him to grief;
If He would render Himself as a guilt offering,
He will see His offspring,
He will prolong His days,
And the good pleasure of the Lord will prosper in His hand.
11As a result of the [p]anguish of His soul,
He will see it and be satisfied;
By His knowledge the Righteous One,
My Servant, will justify the many,
As He will bear their iniquities.
12Therefore, I will allot Him a portion with the great,
And He will divide the booty with the strong;
Because He poured out Himself to death,
And was numbered with the transgressors;
Yet He Himself bore the sin of many,
And interceded for the transgressors.
To learn more:
GETTING A RIDE
ON THE ROAD TO LIFE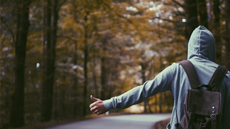 You will exist forever. The question is, where? Disobeying God is the road to death, and we have all disobeyed God:
For all have sinned [disobeyed God] and fall short of the glory of God. - Romans 3:23
The consequence of sin is death. You will exist experiencing death forever.
For the wages of sin is death... - Romans 6:23a
But there is GOOD News! You can have life!
...but the free gift of God is eternal life in Christ Jesus our Lord. - Romans 6:23b
God demonstrates His own love toward us, in that while we were yet sinners, Christ died for us. - Romans 5:8
Instead of our experiencing death forever, Christ died in our place. Repent (turn away from disobeying God), believe this, trusting that Jesus truly did die in your place.
Therefore, having been justified by faith, we have peace with God through our Lord Jesus Christ. - Romans 5:1