We currently do not have a physical location, and ask for your prayers for this. We have have most of the exhibit materials and are continuing to create the videos that will be a part of this museum. As videos are completed they will be posted here.
EVOLUTION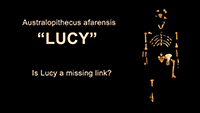 Lucy: Not A Human Ancestor
(Length: 2:04)
Lucy (Australopithecus afarensis) is presented as the link between apes (chimpanzees) and human. Looking at the evidence, Lucy is not only not a chimpanzee (she's related to bonobos) it is not even close to being a realistic transitional fossil. Lusy is 100% ape. Not a transition at all. This is fake science.
ICHNOLOGY
Ichnology is the study of fossilized tracks and traces... things such as dinosaur tracks.
Learn To Read Dinosaur Tracks
(Length: 2:17)
If you understand what you are seeing, you can "read" a dinosaur track and learn quite a bit about the dinosaur that left what is now a fossilized footprint. In this video you will learn how to identify the basic type of three toed dinosaur based on the footprints they've left.