Sarah Young's Jesus Calling Answered!
RUN! It's Jesus Calling
Free Download: PDF or MOBI (Kindle)
Left click a link above to download a copy.
Beloved, do not believe every spirit, but test the spirits to see whether they are from God, because many false prophets have gone out into the world. - 1 John 4:1
"Thank you for this book. I read "Jesus Calling" for over a year every day and always has had an unsettling feeling, although I did have a lot of good feelings after reading daily as well. I always felt putting words in Gods mouth was very wrong. I have no idea why I thought reading this book was different. Your book has led me back strictly to the Bible and what it teaches. Anything that drifts from that I will discard immediately from here on out! Thanks again!" - Rob
Have you tested the Jesus Calling devotional?
Is this a Christian book or is it false teaching?
The book "RUN! It's Jesus Calling" puts Sarah Young's Jesus Calling to the Biblical test. It clears away all questions -- providing an in-depth and thoroughly Biblical look at this hugely popular devotional. It compares both the approach that has been taken in writing this devotional, as well as its content, with the truth of scripture.
Now these were more noble-minded than those in Thessalonica, for they received the word with great eagerness, examining the Scriptures daily to see whether these things were so. - Acts 17:11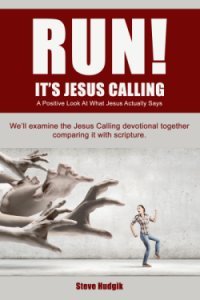 Learn the truth about the Jesus Calling devotional
With over 18 million copies sold worldwide, the Jesus Calling devotional book is one of the all-time best selling Christian books. It is also a unique devotional. Each day Jesus speaks directly to you, giving you directions and commands instructing you about how to live your life. Is what Jesus says in this devotion Biblical? In "RUN! It's Jesus Calling" you'll learn why these "words of Jesus" are not scriptural.
"RUN! It's Jesus Calling" takes a comprehensive look at the Jesus of Jesus Calling. Is this the real Jesus of the Bible? Are the messages Biblical? Or does Jesus Calling present a false Jesus and a false gospel? "RUN! It's Jesus Calling" demonstrates this is not the real Jesus and it will reveal the places in Jesus Calling where a false gospel is presented.
"RUN! It's Jesus Calling" also looks at the unique approach Sarah Young took in writing this devotional book. For example, it is written in the first person with Jesus speaking. Is this sinful or is it acceptable? How does putting the words of this devotional on the lips of Jesus reflect on the character of God? And why does the Jesus of Jesus Calling make so many simple mistakes about scripture?
But examine everything carefully; hold fast to that which is good; abstain from every form of evil. (In other words, be discerning.) - 1 Thessalonians 5:21-22
Taking a positive approach to discovering the real Jesus, "RUN! It's Jesus Calling" covers topics such as:
The Presence of God
God's Peace
Trusting God
Spiritual Leadings
Is Scripture Sufficient?
Does God's Word Change?
Finding Real Peace
How To Be Blessed
Characteristics of False Teaching
What's The Big Deal About The Cross?
Using the standards set out in the Bible, "RUN! It's Jesus Calling" takes a step-by-step approach to examining the Jesus Calling devotional and comparing it with scripture. But, there is more… this book is so packed with Biblical truth that it is a wonderful tool for those who just want to learn more about Jesus and the Bible. In addition, Christians who wish to become more discerning concerning false teaching will find "RUN! It's Jesus Calling" to be a valuable resource. Through scriptural examples, it explains how to detect false teaching, and brings to light the subtleties that can hide false teaching or draw your attention in other directions, so that you are not aware of the false teaching.
Be diligent to present yourself approved to God, a worker who does not need to be ashamed, rightly dividing the word of truth. - 2 Timothy 2:15
The Jesus Calling devotional book by Sarah Young - when the facts are examined it is obvious THIS IS NOT THE TRUE JESUS CALLING.