You were told not to push (or touch) the red button!
Please read the information below the video.
30 SECOND VIDEOS | VIDEO BLOG | SERMONS
You were told to not push (click on) the red button, but you did.
You broke the rules. And that's what we do as humans. Except when it's God's rules... the consequences are very serious.
Here's why: you were created in the image of God. That means you represent who God is. You represent the character of God. And when you violate God's law, a law that describes God's character. You represent God as a liar; a thief; a murderer; and an adulterer. For example, how many lies have you told (liar)? Have you ever taken anything that does not belong to you, even something small (thief)? Have you ever been really angry with someone (think of driving in traffic)? In Matthew 5 Jesus said that when you get unjustly angry at someone you have murdered them in your heart (murderer). Have you looked at another person with lust? Jesus also said in the Sermon on the Mount -- Matthew 5 -- that to look with lust is to commit adultery in your heart (adulterer).
You are guilty of breaking God's laws and defiling God's character. And the just penalty is eternity in hell. God is a perfect judge. A slick lawyer is not going to get you out of this one.
Your only hope is Jesus Christ. Two thousand years ago Jesus died on the cross paying the penalty you've earned for breaking God's law. You should have been on that cross. Instead Jesus was their in your place. He died... and then He proved everything scripture says is true... on the third day He rose from the dead. Jesus demonstrated in an observable way, that there is life after death. Those you trust that Jesus has paid their penalty for sin (breaking God's laws) in full, receive Jesus' free gift. They will have eternal life.
If you reject Jesus. If you reject the cross. Then you WILL pay the just penalty you have earned for disobeying the God who created you and gave you life.
GOD KNOWS YOU...
HE KNOWS EVERYTHING!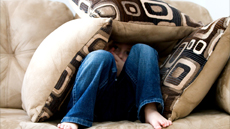 You cannot hide anything from God, and you can't hide from God:
'Can a man hide himself in hiding places So I do not see him?' declares the LORD 'Do I not fill the heavens and the earth?' declares the LORD. - Jeremiah 23:24
Imagine you have an SD card in your head that records every thought and dream. We record for a month and then rent a theater. All your friends are invited as we play that SD card on the big screen. How would you feel?
That's what God sees. He is disgusted and knows that because of your sin (those thoughts we all see on the big screen) you will never be with God. But God still loves you, and He made an incredible sacrifice for you. He died in your place.
You have a choice. Reject God... and get what you say you want... you'll spent eternity separated from God. And that means separated from EVERYTHING that is good. Think about that.
Or accept the gift God offers... trust that Jesus Christ died on the cross to pay the penalty you've earned (remember those thoughts on the SD card). Jesus paid your penalty in full. It is finished
There is no darkness or deep shadow Where the workers of iniquity may hide themselves. - Job 34:22